The WEEKLY Blast (3.6.22)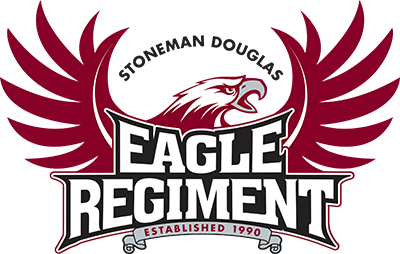 6 March 2022
Eagle Regiment Family,
I hope everyone is having a restful weekend with Family!
FBA DISTRICT CONCERT MPA is this WED., MARCH 9 at FLANAGAN HS.
A new detailed schedule for March 9th will go out tomorrow as it has been slightly adjusted. Please come out to support our students! The performance times are as follows:
Symphonic Band performs at 1:00 PM and the Wind Orchestra performs at 7:15 PM.
PLEASE SEE THE BAND APP FOR THE FLYER ABOUT PEPPERONI GRILL AND JEREMIAH'S ITALIAN ICE FUNDRAISERS FOR INDOOR PERCUSSION!
PLACEMENT VIDEO AUDITION INFORMATION FOR NEXT YEAR'S BANDS:
All current 8th, 9th, 10th, and 11th Graders coming to MSD next year, need to see the Band App for all of the Audition Information. Audition Videos are due on or before April 27th. Please email questions to Mr. Rivero at SKRivero@eagleregiment.com.
Please see below for THIS WEEK, and NEXT WEEK'S SCHEDULE:
THIS WEEK'S SCHEDULE

:
MONDAY, 3/7:
-**Wind Orchestra: 3:00 PM - 4:00 PM**
-Indoor Percussion: 4:15 PM - 7:15 PM
TUESDAY, 3/8:
-Stoneman Winds: 3:30 PM - 7:30 PM
-A Guard: 5:00 PM - 8:30 PM
-World Guard: 5:00 PM - 8:30 PM
WEDNESDAY, 3/9:
-FBA District Concert MPA at Flanagan High School
Performance time for Symphonic Band is 1:00 PM
Performance time for Wind Orchestra is 7:15 PM
THURSDAY, 3/10:
-Indoor Percussion: 4:00 PM - 7:15 PM
-A Guard: 5:00 PM - 8:00 PM
-World Guard: 5:30 PM - 8:30 PM
FRIDAY, 3/11:
-Stoneman Winds: 3:30 PM - 8:00 PM
SATURDAY, 3/12:
-FFCC CONTEST for Winds, Perc, "A" Guard, & World Guard at JUPITER HS
NEXT WEEK'S SCHEDULE

:
MONDAY, 3/14:
-Indoor Percussion: 4:15 PM - 7:15 PM
-World Guard: 5:00 PM - 8:30 PM
TUESDAY, 3/15:
-Stoneman Winds: 3:30 PM - 7:30 PM
-A Guard: 5:00 PM - 8:30 PM
-World Guard: 5:00 PM - 8:30 PM
WEDNESDAY, 3/16:
-A Guard: 5:00 PM - 8:00 PM
-World Guard: 5:00 PM - 8:30 PM
THURSDAY, 3/17:
-Stoneman Winds: 2:00 PM - 8:00 PM
-Indoor Percussion: 4:00 PM - 7:15 PM
FRIDAY, 3/18:
-Stoneman Winds: 8:00 AM - 6:00 PM
-World Guard: WGI REGIONAL ORLANDO
SATURDAY, 3/19:
-Stoneman Winds: 8:00 AM - 6:00 PM
-Indoor Perc to Amelia Island
-World Guard: WGI REGIONAL ORLANDO
SUNDAY, 3/20:
-Indoor Perc to Amelia Island