The WEEKLY Blast (8.22.21)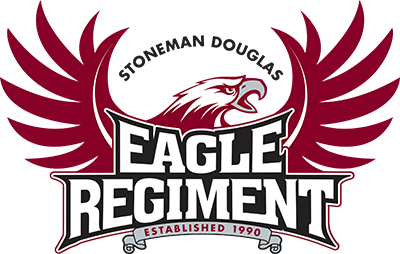 22 August 2021
Eagle Regiment Family,
Congratulations to all for a very successful first week! We really hit the ground running with a Football Game, followed by our annual Pops-N-Pies! Thank you to all that participated!
ALL-State Auditions: Any student intending to audition for All State must join the ALL-STATE 2022 Band app page. Information for signining up will be posted on that page this week.
ALL Students need to make sure to join their Class Period Band App Page.
Open House is this Tuesday and the Eagle Regiment Marching Band will be performing in the Courtyard at 5:35 PM. Please come out and cheer us on. Students will need their Maroon Spirit Shirt for this performance.
ER Practice schedule for this week is Tuesday and Thursday and we have a Game on Friday. See detailed Schedule Below for times and info.
ER Wind and Perc Players will need Black Shorts and the Eagle Regiment Black Cap for this Friday's Football Game.
ER Students must have the following for EVERY Football Game:
Band Bag
Poncho
Instrument/Equipment
(2) Bottles of Water (No Other Drinks allowed)
Flip Folder with Music (Winds Only)
Music Lyre (Winds Only)
THIS WEEK'S SCHEDULE

:
-TUESDAY, 8/24/21: ER REHEARSAL & OPEN HOUSE PERF
*Bring Practice Uniform & Water for After School Rehearsal
**Bring Spirit T-Shirt to put on just before Open House Perf.
3:15 PM - 5:30 PM, Rehearsal
5:35 PM, Performance in Court Yard (Opener and Stands Music)
6:00 PM, OPEN HOUSE BEGINS/STUDENTS PUT AWAY ALL EQUIPMENT
6:30 PM, Student's Dismissal
-THURSDAY, 8/26/21: ER REHEARSAL (*Extended by 15 minutes)
*3:15 PM - 6:45 PM (Pick Up at 7:00 PM)
-FRIDAY, 8/27/21: ER STANDS MUSIC REHEARSAL & GAME
Bring with you to school - Instrument, Band Bag with Poncho, ALL Music, Flip Folders, Lyres, (2) Water Bottles, Maroon Spirit T-Shirt & Black Shorts, Eagle Regiment Cap, (Color Guard bring New Spirit Uniform)
3:3o PM - Stands Music Practice in Auditorium (in Practice Uniform)
5:00 PM - Dinner in Cafeteria
5:45 PM - Change into Spirit Uniform
6:10 PM - Inspection in Auditorium
6:20 PM - March to Stadium
6:50 PM - Perform National Anthem
7:00 PM - GAME
10:00 PM - Approx Dismissal
----------------------------------------------------
NEXT WEEK'S SCHEDULE

:
-TUESDAY, 8/31/21: ER REHEARSAL
3:15 PM - 6:30 PM (Pick up at 6:45 PM)
-THURSDAY, 9/2/21: ER REHEARSAL
3:15 PM - 6:30 PM (Pick up at 6:45 PM)