The WEEKLY Blast (9.18.21)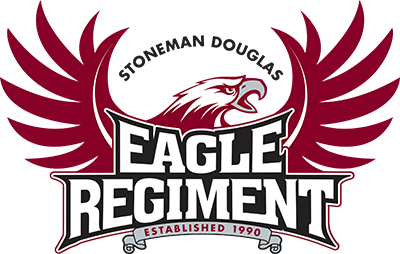 18 September 2021
Eagle Regiment Family,
Thank you to all of the Family and Friends that came out for last night's game. It's so great to see the students back and in uniform again!
ALL ER Marching Band Parents must be on the BAND app. Last night, the game was delayed due to weather and we posted that the students would be approximately 45 minutes delayed in dismissal. Some parents did not get that message which led to some confusion. Please join the BAND app now. The link to join is https://band.us/n/a1af62B6R0vf8
Tuxedo/Dress Fittings for Wind Orchestra, Symphonic Band, Concert Band, Jazz Band, and Percussion members will take place sometime next week. Be on the look out for a post on the BAND app from Ms. Govan.
We have a couple of busy weeks coming up as we are trying to complete our show by learning Movments 3 and 4. It is expected that all students attend all rehearsals in order for this to be possible. Please adhere to the schedule which can be found at https://www.stonemandouglasband.com/calendar
Marching Band Individual Pictures are scheduled for Tuesday, 9/23, during the school day. (Middle School Members, if possible, should try to be at MSD by 2:20 PM in order to have their picture taken by 2:40 PM)
Students will sign up for picture times in the Band Room on Monday. Students should sign up to have their picture taken during their Band/Perc/Guard Class, Study Hall, or whichever class that can be missed for 20 minutes. After students sign up, they will be given a picture pass to present to their teacher prior to their time. Parents, your child should have brought home an order form (Check their Band Bag). If you did not get the order form, you can order online at pdiportraits.com
If you pre-order online BY picture day you will receive a FREE 2022 Photo Calendar. Parents will have to enter the coupon code from the order form (The ONLINE Coupon Code is 092121) in order to NOT be charged shipping when you order online. If you DO NOT have an order form, please use the Coupon Code and order online. ALL Orders will be shipped to the school UNLESS You pay the $6 shipping fee ONLINE.
NEXT TUESDAY is the LAST DAY to take advantage of the FREE 2022 PHOTO CALENDAR OFFER!
Order Today at pdiportraits.com (The ONLINE Coupon Code is 092121)
ER Practice Schedule for this week is TUESDAY, WEDNESDAY, THURSDAY, AND SATURDAY. See detailed Schedule below for times and info.
We have just 7 MORE REHEARSALS til our 1st Competition, which is October 2nd, at Flanagan High School!!!
THIS WEEK'S SCHEDULE

:
-MONDAY, 9/20/21: Sign up for Picture Time in the Band Room.
-TUESDAY, 9/21/21:
ER REHEARSAL: 3:15 PM - 7:00 PM (Pick Up at 7:15 PM)
(Color Guard: 5:00 PM - 8:00 PM)
-WEDNESDAY, 9/22/21:
ER REHEARSAL: 3:15 PM - 7:00 PM (Pick Up at 7:15 PM)
-THURSDAY, 9/23/21:
ER REHEARSAL: 3:15 PM - 7:00 PM (Pick Up at 7:15 PM)
-SATURDAY, 9/25/21:
ER CAMP DAY: 8:00 AM - 8:00 PM (Pick Up at 8:15 PM)
(Bring Lunch & Dinner)
(Parents - come on out at 7pm and watch the last hour of practice)
----------------------------------------------------
NEXT WEEK'S SCHEDULE

:
-TUESDAY, 9/28/21:
ER REHEARSAL: 3:15 PM - 7:00 PM (Pick Up at 7:15 PM)
(Color Guard: 5:00 PM - 8:00 PM)
-THURSDAY, 9/30/21:
ER REHEARSAL: 3:15 PM - 7:00 PM (Pick Up at 7:15 PM)
-FRIDAY, 10/1/21:
ER REHEARSAL: 3:15 PM - 7:00 PM (Pick Up at 7:15 PM)
-SATURDAY, 10/2/21: (ALL DAY AND NIGHT EVENT)
CONTEST #1, FALCON SOUND INVITATIONAL at FLANAGAN HS