The WEEKLY Blast (3.14.21)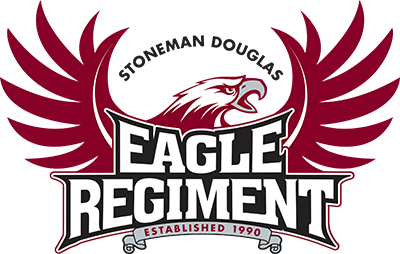 14 March 2021
Eagle Regiment Family,
What an incredible week for the Eagle Regiment! We had great attendance at our Marching Band Rehearsals and actually played some of next year's opener!
We had an amazing turnout and great fellowship all in support of our Winter Percussion team at Hurricanes. Click here for pics https://www.hurricane-wings-nigh.stonemandouglasband.com/. Please be sure and join us at our next social activity planned at Chipotle 4600 N. University Dr in Coral Springs on March 30th 6:30-9pm.
Please join me in congratulating the following students for being nominated and selected into the 2021 All County Band:
Esther Bang
Lauren Fitzsimmons
Justin Krooks
Austin Rivero
Michelle Ross
Brian Viner
The virtual All County Band experience will be during the afternoon/evenings of March 29th - April 1st. *These students need to join the following Band App page at https://band.us/n/a9a153deT6Ae8
There will be a General Parent Meeting via ZOOM this Wednesday, March 17th, at 7:00 PM. Invite will be posted soon.
Color Wars 2021: Yes, we are planning the annual Color Wars. Details coming soon!
We have begun plans for our annual Banquet, in Person. Please save the date: Friday, May 21st. All Balances must be paid in order to attend. More info to follow on details and ticket sales.
Reminder - Leadership Staff Applications are Due Thurs., March 18th.
Reminder - Beginning Tues., March 30th, after school rehearsal attendance will be mandatory in order for students to be assigned a drill spot in next year's Marching Band Show.
Please see below for this Week's Schedule:
________________________________________________________________________________
THIS WEEK'S SCHEDULE:
Monday, 3/15/21, Burgundy Day
Tuesday, 3/16/21, Silver Day
4:30 PM-6:15 PM, 2021-22 ER Spring Training, MSD North East -Parking Lot
6:15 PM - 7:45 PM, MSD Winter Percussion Rehearsal, Band Room
Wednesday, 3/17/21, Burgundy Day
7:00 PM, General Parent Meeting via ZOOM
Thursday, 3/18/21, Silver Day (Early Release) (Leadership Staff Applications)
*NO REHEARSALS*
Friday, 3/19/21, NO SCHOOL
*ENJOY YOUR SPRING BREAK! No rehearsals during Spring Break. The next rehearsal after spring break will be Tuesday, March 30th.