The WEEKLY Blast (9.12.21)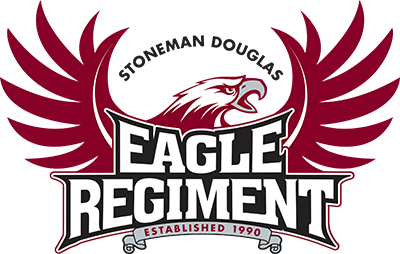 12 September 2021
Eagle Regiment Family,
Happy Sunday to all!
Please be sure to READ ALL of The WEEKLY Blast so everyone can be ready for Homecoming Week as well as next week.
AND just so the EXCITEMENT and ANTICIPATION can really begin... We have just 9 MORE REHEARSALS til our 1st Competition, which is October 2nd, at Flanagan High School!!!
ER Practice Schedule for this week is TUESDAY and WEDNESDAY, AND THE HOMECOMING PEP RALLY, PARADE, & GAME ON FRIDAY. See detailed Schedule below for times and info.
THIS WEEK'S SCHEDULE

:
-MONDAY, 9/15/21: "Captain America Monday" (Everyone should wear Red, White, & Blue)
-TUESDAY, 9/14/21: "Side-kick Twin Tuesday" (Everyone should identify a "twin" and match/coordinate outfits.)
ER REHEARSAL: 3:15 PM - 7:00 PM (Pick Up at 7;15 PM)
(Color Guard: 5:00 PM - 8:00 PM)
-WEDNESDAY, 9/15/21: "What if Wacky Wednesday" (Everyone should dress up in wacky tacky, neon and tie dye clothing.)
ER REHEARSAL: 3:15 PM - 4:45 PM (Pick Up at 5:00 PM)
-THURSDAY, 9/16/21: (NO SCHOOL)
-FRIDAY, 9/17/21: "DC vs Marvel" (Wear your Class Colors) - (Class shirts to wear on this day are available for presale on the MSD e-store NOW!)
HOMECOMING (Pep Rally, Parade, Game)
Bring with you to school - *READ ALL OF THIS*
-A Bag Dinner, Instrument/Equipment, Band Bag with Poncho, ALL Music, Flip Folders, Lyres, (2) Water Bottles.
-PEP RALLY UNIFORM: Spirit Uniform, ER CAP, Spirit T-Shirt, Black Shorts, Sneakers.
-PARADE & GAME UNIFORM: ER CAP, Black Show Shirt, Black Gloves, Black Shorts (or black compression shorts), Long Black Socks, Marching Shoes, and plenty of Deoderant!!!
12:30 PM - REPORT TO BAND ROOM IN PEP RALLY UNIFORM
1:09 PM - PEP RALLY
2:40 PM - Break
3:15 PM - Stands/Parade Music Practice in Auditorium
3:45 PM - Change into FULL Uniform
4:15 PM - FULL INSPECTION
4:30 PM - MARCH TO PARADE ROUTE
5:00 PM - PARADE
5:30 PM - Dinner in Cafeteria (Bring your Own) (Cool Down)
6:25 PM - March to Stadium
6:50 PM - Perform National Anthem
7:00 PM - GAME
10:20 PM - Approx Dismissal
----------------------------------------------------
NEXT WEEK'S SCHEDULE

:
-TUESDAY, 9/21/21: ER Rehearsal (3:15-7:00)
(Color Guard: 5:00 PM - 8:00 PM)
-WEDNESDAY, 9/22/21: ER Rehearsal (3:15-7:00)
-THURSDAY, 9/23/21: ER Rehearsal (3:15-7:00)
-SATURDAY, 9/25/21: ER CAMP DAY Rehearsal (8AM-8PM)