STONEMAN DOUGLAS
COLOR GUARDS
​
COMPLETE THE ONLINE REGISTRATION FORM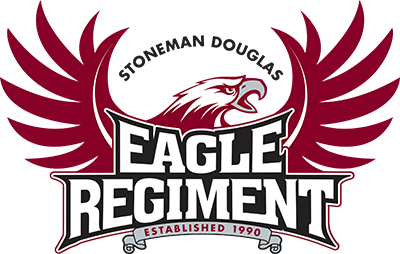 Thanks for submitting your information! WELCOME to the Eagle Regiment Family!
Anyone planning on participating in the




2021
STONEMAN DOUGLAS EAGLE REGIMENT COLOR GUARD




needs to complete the below form.
​
2021-2022




EAGLE REGIMENT




MEMBERSHIP REGISTRATION
​
All EAGLE REGIMENT COLOR GUARD
REHEARSALS & EVENTS CAN BE
LOCATED IN THE CALENDAR SECTION
the
Stoneman Douglas
COLOR GUARDS
Becoming a part of the STONEMAN DOUGLAS COLOR GUARD PROGRAM is easy! This is your chance to meet the organization, including our passionate leadership, educational staff, returning membership, volunteers and alumni.
JOINING the SDCG can seem like a lot - There is a lot to know, learn, and do to get all the information you need.
Take a look at our STEP by STEP process listed below. Ask questions, work hard and get ready to become a member!
Questions?


Email Mr. Broadbent,

Director of Color Guards.
COMPLETE THE MEMBER REGISTRATION FORM....BECOME A PART OF
THE

STONEMAN DOUGLAS COLOR GUARD PROGRAM!
Every interested student should complete the MEMBER REGISTRATION FORM below.
Every student MUST complete the PRE-PARTICIPATION FORM in order to attend after school rehearsals.
MARK YOUR CALENDAR for FEBRUARY 2nd! You are now a part of
STONEMAN DOUGLAS COLOR GUARD!
Get ready to have an amazing season!
Heading 2