The WEEKLY Blast (4.16.22)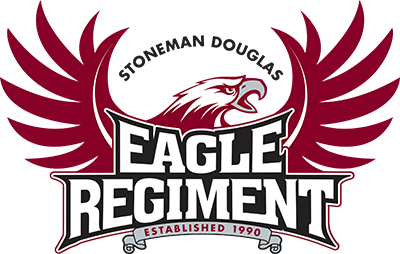 16 April 2022
Eagle Regiment Family,
Happy Saturday to all! Our MSD Indoor Percussion and Stoneman Winds Performers, Staff, and Parents are all at MSD right now putting the finishing touches on their shows, props, uniforms, and logistics. THANK YOU TO ALL as both groups are about to make history as they make their first appearance ever at WGI World Championships!!! We are all so proud and thankful! Be sure to watch the BAND app for streaming details as well as updates on our Performers.
UPCOMING EVENTS/DATES:
-April 18, MANDATORY PROGRAM MEETING
2:50 PM in Band Room for Attendance,
3:00 PM - 4:20 PM, MSD Auditorium: This Meeting is for ALL students in Mr. Rivero and Mr. Broadbent's classes AS WELL AS current students in Marching Band, Symphonic Band, Wind Orchestra, Jazz Band, "A" Guard students that attend MSD, World Guard, Indoor Winds, and Indoor Percussion.
If future Marching Band Students are able to attend, they are welcome to attend virtually or in person
-April 18, Indoor Percussion Parent Meeting (WGI Trip Information), 8:00 PM
-April 19, Stoneman Winds Parent Meeting (WGI Trip Information), 7:30 PM
-APRIL 20: MSD INDOOR PERCUSSION DEPARTS TO WGI WORLD CHAMPIONSHIPS, OHIO!!!
-APRIL 21: STONEMAN WINDS DEPARTS TO WGI WORLD CHAMPIONSHIPS, OHIO!!!
-April 27: DUE DATE FOR PLACEMENT AUDITION VIDEOS:
PLACEMENT VIDEO AUDITION INFORMATION FOR NEXT YEAR'S BANDS:
All current 8th, 9th, 10th, and 11th Graders coming to MSD next year, need to see the Band App for all of the Audition Information. Audition Videos are due on or before April 27th. Please email questions to Mr. Rivero at SKRivero@eagleregiment.com.
-April 29: Eagle Regiment Senior Nite
-May 3: 1st REHEARSAL FOR NEXT YEAR'S MARCHING BAND!!! (This will be for Returning and NEW Wind and Percussion members.). 4:30 PM - 7:00 PM in the MSD Band Room. The entire Spring, Summer, and Fall Marching Band Schedule is now available at https://www.stonemandouglasband.com/calendar and it is also on the NEW 2022-23 Eagle Regiment BAND app!
-May 12: PARENT MEETING FOR NEXT YEAR'S MARCHING BAND (2022-23)
-May 18: END OF YEAR CONCERT
-May 20: BANQUET
Please see below for THIS WEEK, and NEXT WEEK'S SCHEDULE:
THIS WEEK'S SCHEDULE

:
MONDAY, 4/18:
-MANDATORY PROGRAM MEETING: 3:00 PM - 4:20 PM
-Indoor Percussion: 4:20 PM - 7:15 PM (Truck Load after Rehearsal)
-Parent Meeting for Indoor Perc (Trip Meeting): 8:00 PM
TUESDAY, 4/19:
-Stoneman Winds: 3:30 PM - 8:00 PM (Truck Load after Rehearsal)
-Parent Meeting for Stoneman Winds (Trip Meeting): 7:30 PM
WEDNESDAY, 4/20:
-Indoor Percussion departs to WGI World Championships
-Stoneman Winds: 3:30 PM - 8:00 PM
THURSDAY, 4/21:
-Stoneman Winds departs to WGI World Championships
SUNDAY, 4/24: -Indoor Percussion returns to MSD
NEXT WEEK'S SCHEDULE

:
MONDAY, 4/25:
-Stoneman Winds returns to MSD
FRIDAY, 4/29:
-Eagle Regiment Senior Nite