The WEEKLY Blast (11.1.21)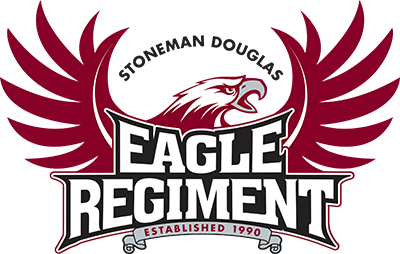 1 November 2021
Eagle Regiment Family,
Good Morning and I hope everyone had a fantastic Halloweeen weekend! Last week was such an amazing week for the Program!!!
A BIG Congratulations/Thank you to:
-The Symphonic Band, Jazz Band, Wind Orchestra, Color Guard, and the entire Eagle Regiment Marching Band for your OUTSTANDING Performance at our Fall Preview Concert. It was truely AMAZING!
-The Schachter Family for their generous Donation/Investement of $25,000 from the Alex Schachter Foundation!
-The Westglades MS Band for joining us at our Football Game as well as our Seniors & Senior Parents that were in attendance for the Senior Recognition Ceremony!
-CONGRATULATIONS to Brian Viner and Ryan Shaw for making it to the 2022 Florida All State Band!!! These two students will be representing Stoneman Douglas High School. We are very proud of you!
INDOOR WINDS:
Show Reveal and Meeting Monday, 11/1, at 3:00 PM.
"A" Guard:
Please tell your friends that it's not too late to join!
ALL COUNTY BAND AUDITIONS:
All County Band Auditions are this Wednesday at Flanagan HS. Please check the ALL COUNTY '22 Band App for Audition info.
THIS WEEK'S SCHEDULE

:
-MONDAY, 11/1/21:
-INDOOR WINDS MEETING: 3:00 PM - 3:30 PM
-TUESDAY, 11/2/21:
-ER REHEARSAL: 3:15 PM - 7:00 PM (Pick Up at 7:15PM)
(Color Guard: 5:00 PM - 8:00 PM)
("A" Guard: 5:00 PM - 6:30 PM)
-THURSDAY, 11/4/21:
-ER REHEARSAL: 3:15 PM - 7:00 PM (Pick Up at 7:15 PM)
-INDOOR PERCUSSION INTEREST MEETING: 7:15 PM
-A GUARD REHEARSAL: 5:00 - 6:30 PM MSD Mini -Gym
-SATURDAY, 11/6/21: JUPITER CONTEST
JUPITER SHOW INFO:
- Jupiter HS is located at 500 Military Trail, Jupiter FL 33458.
- Spectator Parking: $5 Parking Donation
- Admission (gofan.co) -Adults: $15 -Children 12 and under: FREE
-Happy Grams: Purchase a note of encouragement for your favorite band to be read immediately before their performance! $3 each or 2 / $5
-The Festival of Bands is a CASH ONLY event
9:45 AM Arrive Band Room/Set up on Stadium Field
10:30 AM Begin Rehearsal
1:00 PM End Rehearsal/LoadTruck
1:30 PM LUNCH (Bring Your Own)
2:30 PM Personal Hygiene/Dress
3:30 PM Load Buses
3:45 PM Depart for Jupiter HS
5:00 PM Arrive Jupiter HS
5:30 PM DINNER in Cafeteria
7:10 PM OFFICIAL WARM UP TIME (WARM UP AREA "B")
8:00 PM GATE TIME
8:15 PM PERFORM
9:00 PM RETREAT (AWARDS)
9:45 PM Approx. DEPART for MSD
10:45 PM Approx. ARRIVE MSD/Off Load Truck
11:30 PM Approx. Dismissal
NEXT WEEK'S SCHEDULE

:
-TUESDAY, 11/9/21:
ER REHEARSAL: 3:15 PM - 7:00 PM (Pick Up at 7:15 PM)
(Color Guard: 5:00 PM - 8:00 PM)
("A" Guard: 5:00 PM - 6:30 PM)
-**FRIDAY, 11/12/21:
ER REHEARSAL: 3:15 PM - 7:30 PM (Pick Up at 7:45 PM)
-***SATURDAY, 11/13/21:
CAMP DAY: 8:00 AM - 6:30 PM (Pick Up at 6:45 PM)