The WEEKLY Blast (1.2.22)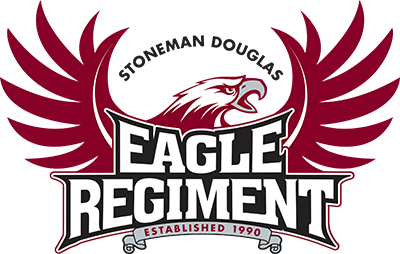 2 January 2022
Eagle Regiment Family,
Good morning and Happy New Year! We are very excited about all that 2022 has in store for the Regiment!
London:
The Eagle Regiment was featured on PBS for 5 minutes on this year's London New Years Day Parade as a prelude to our Live Performance in London on January 1, 2023!
I HIGHLY ENCOURAGE ALL OF YOU TO SIGN UP FOR THIS TRIP OF A LIFETIME! TRIP INFO CAN BE FOUND HERE https://www.stonemandouglasband.com/london
Concert Band Rehearsals:
All Period 1, 2, 3, 4, and 8 Students will begin Concert Band Rehearsals this Wednesday. The Rehearsals for the Wind Orchestra & Symphonic Band will be on Wednesdays from 3:00 PM - 6:00 PM.
Concert Music Camp: (Wind Orchestra, Symphonic Band, & Middle Schoolers)
The annual Concert Music Camp will be Thurs., Jan 20th & Fri., Jan 21st. The Camp is Mandatory and the fee is $65. Fees are due by Jan 13 and should be made payable to MEPA. The Camp will conclude with a Concert on Friday evening at 7:00 PM. Tickets will soon be on sale for $10 each.
Please see below for this week, and next week's schedule:
THIS WEEK'S SCHEDULE

:
MONDAY, 1/3: (Silver Day)
Indoor Percussion:
4:30 PM - 8:00 PM
TUESDAY, 1/4:
Stoneman Winds:
4:00 PM - 8:00 PM
World Guard:
5:30 PM - 9:00 PM
A Guard:
5:00 PM - 8:00 PM
WEDNESDAY, 1/5:
Wind Orchestra & Symphonic Band Rehearsals:
3:00 PM - 6:00 PM
THURSDAY, 1/6:
Indoor Percussion:
4:30 PM - 8:00 PM
World Guard:
5:30 PM - 9:00 PM
A Guard:
5:00 PM - 8:00 PM
FRIDAY, 1/7:
Stoneman Winds:
4:00 PM - 8:00 PM
World Guard:
5:00 PM - 8:30 PM
SATURDAY, 1/8:
Indoor Percussion:
9:00 AM - 6:00 PM
World Guard:
10:0 AM - 6:30 PM
NEXT WEEK'S SCHEDULE

:
MONDAY, 1/10: (Early Release Day)
Stoneman Winds:
2:00 PM - 8:00 PM
TUESDAY, 1/11: (No Scool - Planning Day)
WEDNESDAY, 1/12:
Wind Orchestra & Symphonic Band Rehearsals:
3:00 PM - 6:00 PM
THURSDAY, 1/13:
Indoor Percussion:
4:30 PM - 8:00 PM
World Guard:
5:30 PM - 9:00 PM
A Guard:
5:00 PM - 8:00 PM
FRIDAY, 1/14:
Stoneman Winds:
4:00 PM - 8:00 PM
SATURDAY, 1/15:
World Guard:
10:0 AM - 6:30 PM
Stoneman Winds:
4:00 PM - 8:00 PM