The WEEKLY Blast (1.9.22)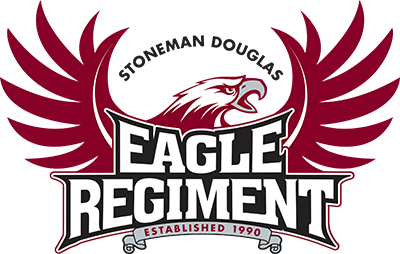 9 January 2022
Eagle Regiment Family,
Good morning and hope everyone has had a nice weekend!
Monthly Parent Meeting & London-Parent Meeting:
There will be a Parent Meeting for all current Band/Guard/Percusssion students at MSD, as well as rising 9th graders from Coral Springs & Westglades MS, on Tuesday, January 18th at 6:30 PM at MSD.
I HIGHLY ENCOURAGE ALL OF YOU TO SIGN UP FOR THIS TRIP OF A LIFETIME! TRIP INFO CAN BE FOUND HERE https://www.stonemandouglasband.com/london
Concert Band Rehearsals:
There will NOT be after school rehearsal this week (Wed., 1/12) due to the All State Convention. After School Band Rehearsals will resume on Wed., 1/19.
Concert Music Camp:
(Wind Orchestra, Symphonic Band, Percussion & Middle Schoolers)
The annual Concert Music Camp will be Thurs., Jan 20th & Fri., Jan 21st. The Camp is Mandatory and the fee is $65. Fees are due by Jan 13 and should be made payable to MEPA. The Camp will conclude with a Concert featuring the Middle School Honor Band, Symphonic Band, and Wind Orchestra on Friday evening at 7:00 PM. Tickets will soon be on sale for $10 each.
Guard Show Parent Volunteer Sign Ups:
February 5th MEPA will be hosting the annual Winter Guard competition at MSD. We need adult volunteers. Please review the SIGN UP LIST and select the job you can assist with. https://www.signupgenius.com/go/10c0c4bafa72da6f4cf8-msdguard
Please see below for this week, and next week's schedule:
THIS WEEK'S SCHEDULE

:
MONDAY, 1/10: (Early Release Day)
Stoneman Winds:
2:00 PM - 8:00 PM
TUESDAY, 1/11: (No Scool - Planning Day)
WEDNESDAY, 1/12:
NO Rehearsal
THURSDAY, 1/13:
Indoor Percussion:
4:30 PM - 8:00 PM
World Guard:
5:30 PM - 9:00 PM
A Guard:
5:00 PM - 8:00 PM
FRIDAY, 1/14:
Stoneman Winds:
4:00 PM - 8:00 PM
SATURDAY, 1/15:
World Guard:
10:0 AM - 6:30 PM
Stoneman Winds:
4:00 PM - 8:00 PM
NEXT WEEK'S SCHEDULE

:
MONDAY, 1/17: (NO SCHOOL)
TUESDAY, 1/18:
Stoneman Winds:
4:00 PM - 8:00 PM
Indoor Percussion:
4:30 PM - 8:00 PM
A Guard:
5:00 PM - 8:00 PM
World Guard:
5:30 PM - 9:00 PM
WEDNESDAY, 1/19:
Wind Orchestra
3:00 PM - 6:00 PM
Symphonic Band
3:00 PM - 6:00 PM
THURSDAY, 1/20:
Concert Music Camp for Wind Orchestra & Symphonic Band
3:00 PM - 8:30 PM (Bring Dinner & Snacks)
A Guard:
5:00 PM - 8:00 PM
World Guard:
5:30 PM - 9:00 PM
FRIDAY, 1/21:
Concert Music Camp for Wind Orchestra & Symphonic Band
7:40 AM - 8:30 PM (Bring Lunch & Snacks) (Bring Uniform in Garment Bag
(7:00 PM - Concert)
World Guard:
5:00 PM - 8:00 PM
SATURDAY, 1/22:
Stoneman Winds:
8:00 AM - 6:00 PM
World Guard:
10:00 AM - 6:30 PM