The WEEKLY Blast (10.10.21)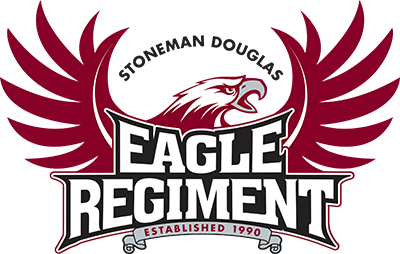 10 October 2021
Eagle Regiment Family,
Hope everyone is getting some much deserved rest! Another very big Congratulations to The Eagle Regiment Marching Band for earning GRAND CHAMPION for the second week in a row. The Regiment completely swept the entire show by earning the highest scores over all of the Bands in attendance in all categories: BEST MUSIC, VISUAL, BEST GENERAL EFFECT, BEST COLOR GUARD, and BEST PERCUSSION! All of this, and we just learned the Closer at yesterday's rehearsal prior to the Contest! This is exactly what we were talking about when we were quarantined and we were saying we needed to be ready for when we all came out of Covid. You are all doing just that! Kudos to our Students, Staff, and Parents on an incredible group effort!
Parents - CHANGE FOR TUESDAY...
We will NOT have a parent meeting this Tuesday, October 12. INSTEAD, we will have MEPA board members available from 3pm-8pm for parents to stop by anytime with questions, make their final payment, or to drop off medication for our Bands of America (BOA) trip.
In addition, the dismissal time on Tuesday will be at 7:45pm. We have the costume shirts that the kids will need to try on and they will also receive one of the shirts they will need to wear on our BOA trip.
REMINDER - PLEASE MARK YOUR CALENDARS FOR OUR FALL PREVIEW CONCERT, WED., 10/27:
Featuring the Jazz Band, Wind Orchestra, Symphonic Band, and the Eagle Regiment Marching Band, THE FALL PREVIEW CONCERT will be in the John Rusnak Auditorium at MSD and will begin at 7:00 PM!
Admission is $10.00 for Adults and $7.00 for Students.
The BOA Trip page is now online!
All information regarding this
event is located there.


THIS WEEK'S SCHEDULE

:
-TUESDAY, 10/12/21:
ER REHEARSAL: 3:15 PM - 7:45 PM (Pick Up at 7:45 PM)
(Color Guard: 5:00 PM - 8:00 PM)
UNIFORM FITTING: 7:00 PM - 7:45 PM
-WEDNESDAY, 10/13/21:
*ER REHEARSAL: 3:15 PM - 7:00 PM (Pick Up at 7:15 PM)
-THURSDAY, 10/14/21:
ER REHEARSAL: 3:15 PM - 7:30 PM (Pick Up at 7:45 PM)
-FRIDAY-SUNDAY, 10/15-17/21: BANDS OF AMERICA, ISLANDS OF ADVENTURE TRIP!
CONTEST #3, Bands of America, Camping World Stadium, Orlando


NEXT WEEK'S SCHEDULE

:
-TUESDAY, 10/19/21:
ER REHEARSAL: 3:15 PM - 6:30 PM (Pick Up at 6:45 PM)
(Color Guard: 5:00 PM - 8:00 PM)
-THURSDAY, 10/21/21:
ER REHEARSAL: 3:15 PM - 7:00 PM (Pick Up at 7:15 PM)
-SATURDAY, 10/23/21:
ER REHEARSAL & FBA DISTRICT EVALUATION @ Coral Springs HS
8:00 AM - 5:00 PM (Pick Up at 5:15 PM)