The WEEKLY Blast (10.18.21)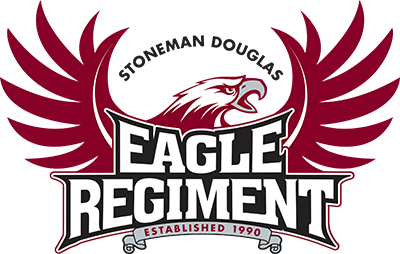 18 October 2021
Eagle Regiment Family,
Congratulations to all for an Incredible Weekend! We are so very proud of all our students as the are once again a Bands of America Regional Finalist!
Next up, FBA District Marching Evaluation, this Saturday at Coral Springs High School.
CONCERT UNIFORMS HAVE ARRIVED!
We will distribute the uniforms from 6:00 pm to 6:45 pm on Tuesday, October 19th and from 6:30 pm to 7:15 pm on Thursday, October 21st. Parents and students may pick up the uniforms near the end of rehearsal pick up time. We will be outside by the red gates at the band room entrance. We encourage you to pick up your student's uniform as soon as possible to ensure you have enough time should you need to hem or adjust for length prior to our first concert on October 27th. For questions,please contact Yanira Govan at MEPAvp@eagleregiment.com
REMINDER - OUR FALL PREVIEW CONCERT IS WED., 10/27:
Featuring the Jazz Band, Wind Orchestra, Symphonic Band, and the Eagle Regiment Marching Band, THE FALL PREVIEW CONCERT will be in the John Rusnak Auditorium at MSD and will begin at 7:00 PM!
Admission is $10.00 for Adults and $7.00 for Students.
THIS WEEK'S SCHEDULE

:
-TUESDAY, 10/19/21:
ER REHEARSAL: 3:15 PM - 6:30 PM (Pick Up at 6:45 PM)
(Color Guard: 5:00 PM - 8:00 PM)
-THURSDAY, 10/21/21:
ER REHEARSAL: 3:15 PM - 7:00 PM (Pick Up at 7:15 PM)
-SATURDAY, 10/23/21: FBA DISTRICT MARCHING EVALUATION
8:00 AM - 5:30 PM
(Detailed schedule will be posted tomorrow)
NEXT WEEK'S SCHEDULE

:
-TUESDAY, 10/26/21:
ER REHEARSAL: 3:15 PM - 7:00 PM (Pick Up at 7:15 PM)
(Color Guard: 5:00 PM - 8:00 PM)
-WEDNESDAY, 10/27/21:
Wind Orchestra, Symphonic Band, Jazz Band REHEARSAL: 3:30 - 5:30 PM
*FALL CONCERT*: 7:00 PM
-THURSDAY, 10/28/21:
ER REHEARSAL: 3:15 PM - 7:00 PM (Pick Up at 7:15 PM)
-FRIDAY, 10/29/21:
Battery Perc Perf: 3:00 PM
Stands Music Rehearsal: 3:15 PM
Dinner in Cafeteria: 4:15 PM
Senior Gifts: 5:00 PM
Senior Night: 5:30 PM (at Stadium)
Football Game: 7:00 PM (Westglades MS Night)