The WEEKLY Blast (11.8.20)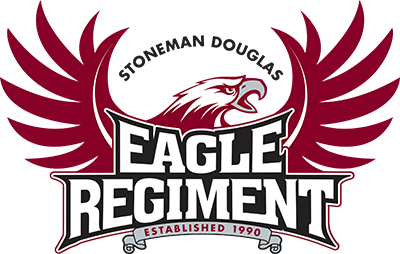 8 November 2020
Eagle Regiment Family,
Before I post the recap of this past week and this coming week's schedule, I must address the importance of staying connected with the Band App, Charms, and Reading The WEEKLY Blast. Each week, I take time out of my weekend to update Students/Parents on announcements and what's coming up. The past two weeks have been eye-opening to me when it became obvious that there are several Parents and Students that are not reading my posts. The only way to total success in any organization is through clear and consistent communication. We do this via the Band App, our Eagle Regiment website, and the Charms email system. We did our best to accomodate people that did not "see/read" the updates regarding In Person MB, COVID Procedures, and the Senior Recognition Game/Ticket Procedures; however, this will not be the case moving forward. It is everyone's responsibility and obligation to stay informed and act on the suspenses put out. There will be a follow up for all Parents and Students on this topic at our next MEPA meeting, which is scheduled for Tuesday, November 17, at 6:30 PM.
This past week, we experienced our first football game for the 2020-21 School Year as well as celebrated our Senior Students and Parents at the Senior Recognition Night!!! It was, AGAIN, so great to SEE and HEAR our students in action. Special thanks to our Senior Parents that made it out to participate in honoring our Seniors. And a special Thanks to our MEPA parents that chaperoned and took great care of our students. To the Seniors that were not present, Do not Worry as I have your Senior Medal secured and will hold on to it until we see eachother.
PLEASE NOTE - There will be a different process for Parents to secure, no more than (2), tickets for the Game on 11/20. This process will be handled through MEPA and once the suspense date has passed, you WILL NOT be able to get tickets. THIS NEW PROCESS AND SUSPENSE DATE WILL SOON BE POSTED ON THE BAND APP, ER WEBSITE, AND EMAILED OUT THROUGH CHARMS.
In honor and observance of Veterans Day, there will be NO "IN PERSON MB" nor ZOOM REHEARSAL this Wednesday, 11 NOV 2020.
Wishing all of you a great week! If you serve or have served; or have a family member that serves or has served in the Armed Forces of the United States, I salute you, thank you, and wish you a very Happy Veterans Day!
This Week's SCHEDULE:
Monday, 11/9/20, Silver Day
Tuesday, 11/10/20, Burgundy Day
Wednesday, 11/11/20, NO SCHOOL/NO REHEARSAL
Thursday, 11/12/20, Silver Day
5:30 - 6:55 PM COLOR GUARD CLUB@ MSD * Students must pre-register and have a Pre-Participation Eval Form on file to attend. View Info here
Friday, 11/13/20, Burgundy Day
______________________________________________________________________
ANNOUNCEMENTS/REMINDERS:
-In Person MB/Home MB members: In honor and observance of Veterans Day, there will be NO "IN PERSON MB" nor ZOOM REHEARSAL this Wednesday, 11 NOV 2020.
-All Parents/Students: There will be a MEPA meeting, Tuesday, November 17, at 6:30 PM.