The WEEKLY Blast (2.13.22)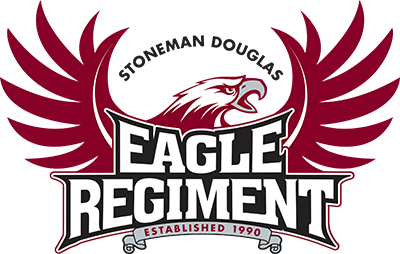 13 February 2022
Eagle Regiment Family,
Good morning and I know that this is a very difficult time for our school and community. Please know that we stand with all of you and we are so very proud to be a part of the Eagle Regiment.
Jazz Band:
The FBA District Jazz MPA is THURSDAY, FEBRUARY 17th, at Plantation HS. Our Jazz Band performs at 2:00 PM. Jazz Band Students are reminded of the following:
-See the Full Itinerary posted on the Jazz Band App.
-Bring a breakfast item to school that morning for our Jazz Band Breakfast.
-Bring your Tuxedo/Dress to school that morning.
FBA Solos & Ensembles:
The FBA District Solo & Ensemble is FRIDAY & SATURDAY, FEBRUARY 18th at SOUTH PLANTATION HS. Information will be posted on the Solo & Ensemble '22 Band App.
Please see below for THIS WEEK, and NEXT WEEK'S SCHEDULE:
THIS WEEK'S SCHEDULE

:
TUESDAY, 2/15:
-Stoneman Winds: 3:30 PM - 6:30 PM
-Indoor Percussion: 4:00 PM - 7:15 PM
-A Guard: 5:00 PM - 8:00 PM
-World Guard: 5:30 PM - 9:00 PM
WEDNESDAY, 2/16:
-Wind Orchestra: 3:00 PM - 6:00 PM
-Symphonic Band: 3:00 PM - 6:00 PM
THURSDAY, 2/17:
-FBA District Jazz MPA
-Indoor Percussion: 4:00 PM - 7:15 PM
-A Guard: 5:00 PM - 8:00 PM
-World Guard: 5:30 PM - 9:00 PM
FRIDAY, 2/18:
-FBA District Solo & Ensemble (@ South Plantation HS)
-Stoneman Winds: 3:30 PM - 6:30 PM
SATURDAY, 2/19:
-Color Guard Contest @ Hialeah Gardens HS
-Percussion Contest @ Hialeah Gardens HS
NEXT WEEK'S SCHEDULE

:
TUESDAY, 2/22:
-Stoneman Winds: 3:30 PM - 6:30 PM
-Indoor Percussion: 4:00 PM - 7:15 PM
-A Guard: 5:00 PM - 8:00 PM
-World Guard: 5:30 PM - 9:00 PM
WEDNESDAY, 2/23:
-Wind Orchestra: 3:00 PM - 6:00 PM
-Symphonic Band: 3:00 PM - 6:00 PM
THURSDAY, 2/24:
-Indoor Percussion: 4:00 PM - 7:15 PM
-A Guard: 5:00 PM - 8:00 PM
-World Guard: 5:30 PM - 9:00 PM
FRIDAY, 2/25:
-Indoor Percussion: WGI Orlando
-Stoneman Winds: 3:30 PM - 6:30 PM
SATURDAY, 2/26:
-Indoor Percussion: WGI Orlando
-Stoneman Winds: WGI Orlando
-WG Contest: SFWGA Flanagan HS