The WEEKLY Blast (3.28.22)
Updated: Mar 28, 2022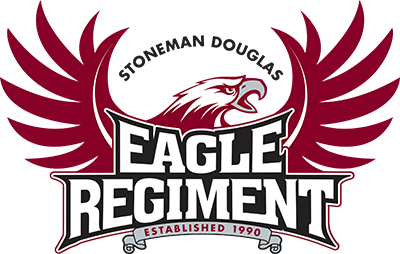 28 March 2022
Eagle Regiment Family,
I hope everyone enjoyed their Spring Break! Congratulations to our Indoor Percussion students for earning the Bronze Medal at the FFCC Championships in Daytona, Beach! Congratulations to our World Guard for their strong showing at the WGI Orlando Regional at Deland HS!
UPCOMING EVENTS/DATES:
-April 1, 7:30 PM, MSD Gym: "MSD WINTER SHOWCASE" featuring our Indoor Groups
("A Guard, World Guard, Stoneman Winds, and Douglas Indoor Percussion).
Tickets are now for sale on our website as well as the schedule at https://www.stonemandouglasband.com/events/winter-showcase
-April 7, 7:00 PM, MSD Auditorium: US Coast Guard Band Free Concert
https://us-coast-guard-band.ticketleap.com/parkland-fl/
-April 15: DUE DATE FOR 2022-23 (Band & Percussion) Leadership Staff Applications ** COLOR GUARD APPLICATION WILL BE RELEASED THE WEEK AFTER WGI
-April 18, 3:00 PM - 5:00 PM, MSD Auditorium: MANDATORY PROGRAM MEETING for ALL current students (Marching Band, Symphonic Band, Wind Orchestra, Jazz Band, "A" Guard, World Guard, Indoor Winds, and Indoor Percussion)
-April 27: DUE DATE FOR PLACEMENT AUDITION VIDEOS:
PLACEMENT VIDEO AUDITION INFORMATION FOR NEXT YEAR'S BANDS:
All current 8th, 9th, 10th, and 11th Graders coming to MSD next year, need to see the Band App for all of the Audition Information. Audition Videos are due on or before April 27th. Please email questions to Mr. Rivero at SKRivero@eagleregiment.com.
Please see below for THIS WEEK, and NEXT WEEK'S SCHEDULE:
THIS WEEK'S SCHEDULE

:
MONDAY, 3/28:
-Stoneman Winds: 3:30 PM - 7:30 PM
TUESDAY, 3/29:
-Stoneman Winds: 3:30 PM - 7:30 PM
-Indoor Percussion: 3:45 PM - 7:15 PM
-A Guard: 5:00 PM - 8:00 PM
-World Guard: 5:00 PM - 8:30 PM
WEDNESDAY, 3/30:
-World Guard: 5:00 PM - 8:00 PM
THURSDAY, 3/31:
-Indoor Percussion: 3:45 PM - 7:15 PM
-A Guard: 5:00 PM - 8:00 PM
-World Guard: 5:00 PM - 8:30 PM
FRIDAY, 4/1:
-Stoneman Winds: 3:30 PM Rehearsal
-Indoor Perc Report time in uniform: 6pm
-A Guard: 5:00 PM - 8:30 PM Rehearsal, 6:30 PM - 7:30 PM Dress into costume/eat
-World Guard: 3:00 PM - 8:30 PM Rehearsal 6:30 PM - 7:30 PM Dress into costume/eat
-MSD Winter Showcase Performance (for all Indoor Groups): 7:30 PM
**PLEASE NOTE we will be filming during the Showcase Performances**
SATURDAY, 4/2:
-Stoneman Winds: 8:00 AM - 4:00 PM Rehearsal
A & World Guard: SFWGA Championships at UM
** STUDENT ITINERARY WILL BE RELEASED LATER THIS WEEK **
NEXT WEEK'S SCHEDULE

:
MONDAY, 4/4:
-Indoor Percussion: 3:45 PM - 7:15 PM
-World Guard: 5:00 PM - 8:30 PM
TUESDAY, 4/5:
-Stoneman Winds: 3:30 PM - 6:30 PM
WEDNESDAY, 4/6:
-World Guard: DEPARTS TO WGI OHIO
-Stoneman Winds: 3:30 PM - 6:30 PM
THURSDAY, 4/7:
-WORLD GUARD @ WORLD CHAMPIONSHIPS
-Indoor Percussion: 3:45 PM - 6:30 PM
-U.S. COAST GUARD BAND CONCERT: 7:00 PM
FRIDAY, 4/8: -WORLD GUARD @ WORLD CHAMPIONSHIPS
SATURDAY, 4/9:
-WORLD GUARD @ WORLD CHAMPIONSHIPS
-Stoneman Winds: 8:00 AM - 6:00 PM Rehearsal
-Indoor Percussion: 9:00 AM - 4:00 PM
-Indoor Percussion: 4:00 pm - 6:00 pm RELAY FOR LIFE PERFORMANCE
SUNDAY, 4/10:
-World Guard: RETURNS FROM WGI OHIO