The WEEKLY Blast (4.11.22)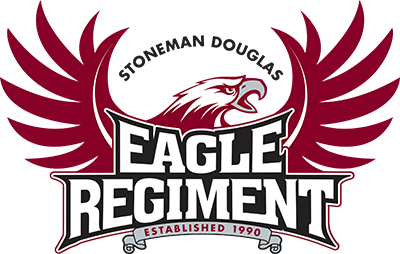 11 April 2022
Eagle Regiment Family,
Congratulations to our World Guard for their INCREDIBLE and VERY MEMORABLE PERFORMANCE at WGI World Championships. They were once again a Finalist and placed 14th in the Scholastic World Class! Congratulations to our 18 Performers, our Staff, and especially our Parent Volunteers!!!
A BIG Thank you to our Drum Line for performing at "Relay for Life" that was hosted at the MSD Stadium tis past Saturday. Your performance was appreciated by all in attendance!
UPCOMING EVENTS/DATES:
-April 12, 5:00 PM - 7:00 PM, CHIPOTLE KICKBACK NIGHT Come out and support the MSD Color Guard at Chipotle Tuesday night! VIEW DETAILS 4600 N University Dr, Coral Springs, FL 33067
-April 15: DUE DATE FOR 2022-23 (Band & Percussion) Leadership Staff Applications ** COLOR GUARD APPLICATION WILL BE RELEASED THE WEEK AFTER WGI
-April 18, 3:00 PM - 5:00 PM, MSD Auditorium: MANDATORY PROGRAM MEETING for ALL current students in Marching Band, Symphonic Band, Wind Orchestra, Jazz Band, "A" Guard students that attend MSD, World Guard, Indoor Winds, and Indoor Percussion. If future Marching Band Students are able to attend, they are welcome to attend virtually or in person.
-April 27: DUE DATE FOR PLACEMENT AUDITION VIDEOS:
PLACEMENT VIDEO AUDITION INFORMATION FOR NEXT YEAR'S BANDS:
All current 8th, 9th, 10th, and 11th Graders coming to MSD next year, need to see the Band App for all of the Audition Information. Audition Videos are due on or before April 27th. Please email questions to Mr. Rivero at SKRivero@eagleregiment.com.
-May 3: 1st REHEARSAL FOR NEXT YEAR'S MARCHING BAND!!! (This will be for Returning and NEW Wind and Percussion members.). 4:30 PM - 7:00 PM in the MSD Band Room. Be on the look out for our entire Spring, Summer, and Fall Marching Band Schedule via The BAND app!
-May 18: END OF YEAR CONCERT
Please see below for THIS WEEK, and NEXT WEEK'S SCHEDULE:
THIS WEEK'S SCHEDULE

:
MONDAY, 4/11:
-Indoor Percussion: 3:45 PM - 7:15 PM
TUESDAY, 4/12:
-Stoneman Winds: 3:30 PM - 6:00 PM (Adjusted)
-CHIPOTLE KICKBACK NIGHT: 5:00 PM - 7:00 PM
WEDNESDAY, 4/13:
-Stoneman Winds: 3:30 PM - 7:30 PM
THURSDAY, 4/14:
EARLY RELEASE
-Indoor Percussion: 3:45 PM - 7:15 PM
-Stoneman Winds: 2:00 PM - 8:00 PM
FRIDAY, 4/15: NO SCHOOL
SATURDAY, 4/16:
-Stoneman Winds: 8:00 AM - 3:30 PM (Adjusted)
-Indoor Percussion: 9:00 AM - 1:00 PM
NEXT WEEK'S SCHEDULE

:
MONDAY, 4/18:
-PROGRAM MEETING: 3:00 PM - 5:00 PM
-Indoor Percussion: 3:45 PM - 7:15 PM
TUESDAY, 4/19:
-Stoneman Winds: 3:30 PM - 8:00 PM
WEDNESDAY, 4/20:
-Indoor Percussion departs to WGI World Championships
-Stoneman Winds: 3:30 PM - 8:00 PM
THURSDAY, 4/21:
-Stoneman Winds departs to WGI World Championships
SUNDAY, 4/24: -Indoor Percussion returns to MSD
MONDAY, 4/25:
-Stoneman returns to MSD