The WEEKLY Blast (8.1.21)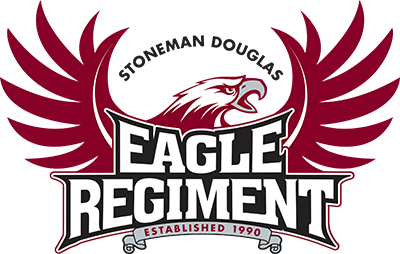 1 August 2021
Eagle Regiment Family,
Let me Introduce and Re-Introduce you to "The WEEKLY Blast!" "The WEEKLY Blast" is a platform that we use for both PARENTS & STUDENTS which details Schedules & Information for the upcoming TWO weeks. We also try to give a glimpse of future schedules and announcements.
REGIMENT STORE
hats are still not available but once they are restocked we will send out the update. 


"HOT OFF THE PRESSES**
show shirts are going to be on sale on the store website starting tonight 7/31 8pm for $20** These are the shirts that families wear at competitions to support the band. We already have student sizes and they will receive their shirts as part of the Band Membership fees. 
Next MEPA PARENT MEETING is 8/11 7pm in person @ MSD.




UPCOMING EVENTS
BAND CAMP 2:
(Masks are to be worn Indoors at all times) (Uniform is Practice Uniform)
Band Camp 2 begins TOMORROW, Aug 2nd and runs through Friday, August 6th. The Hours are 12:30 PM - 9:00 PM. Students need to Bring a Bag Dinner & Beverage daily as well as snacks.
Tomorrow's schedule is as follows:
10:45 AM - SENIORS arrive for Pictures

12:00 PM - AUDITORIUM OPEN for CHECK-IN

12:30 PM - Accountability Check/Announcements in Auditorium

12:40 PM - Sectionals (Inside)

4:00 PM - Dinner/Team Building (Bring your own Bag Dinner & Beverage)

5:00 PM - Visual Instruction (MB Parking Lot)

8:55 PM - Announcements

9:00 PM - Dismissal from MB Parking Lot
BOWLING NIGHT, Sat., Aug 7:
A reminder that we have bowling which is a mandatory band event this Saturday, 8/7 from 7 PM -9PM, at AMF Bowling, 2020 SR-7N (441), in Margate. The $20 payment is due by Wed., 8/4.


FRESHMEN INVASION PERFORMANCE, Fri., Aug 13, 10:30 AM -12:30 PM.:
Yes, we will be performing for the start of the Freshmen Invasion!!! Students will wear Maroon Spirit T-Shirts and Black Pants or Jeans (no rips) for this event which will happen in the gym.
KICK OFF CLASSIC FOOTBALL GAME, Thurs., Aug 19:
Our 1st Night in the Stands supporting the MSD Football Team! Come join us! Students will wear Maroon Spirit T-Shirts and Black Pants or Jeans (no rips) for this event which will happen in the MSD Stadium.
POPS-N-PIES event is Fri.,8/20, 6:30-9pm

.
This event will be our first time in FULL UNIFORM and the first time that we unveil the intro and opener of our 2021 Show, Tres Opulence! We encourage everyone to invite as many friends and family to come and support our students as they are on the football field. Following their performance we all go into the cafeteria and enjoy pizza while we have raffle baskets and while we have recognition of students.
Please see below for this Week and Next Week's Schedule:
___________________________
THIS WEEK'S SCHEDULE

:
Monday, 8/2/21 - Friday, 8/6/21: BAND CAMP 2
12:30 PM - 9:00 PM
Saturday, 8/7/21: BOWLING NIGHT
7:00 PM - 9:00 PM
NEXT WEEK'S SCHEDULE:
Tuesday, 8/10/21: REHEARSAL
12:30 PM - 9:00 PM
Wednesday, 8/11/21: REHEARSAL
12:30 PM - 9:00 PM
Thursday, 8/12/21: REHEARSAL
3:15 PM - 6:30 PM (Parent Pick up at 6:45 PM)
Friday, 8/13/21: PERFORMANCE (FRESHMEN INVASION)
10:30 AM - 12:30 PM