The WEEKLY Blast (8.15.21)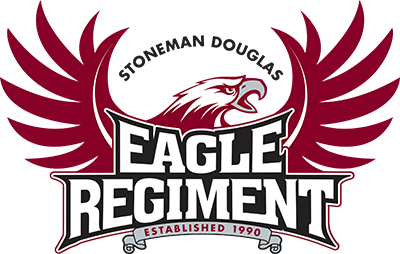 15 August 2021
Eagle Regiment Family,
Good morning and I hope everyone is excited to begin the school year! Please read all of this post carefully as it will detail everything needed for this week.
-Print and Practice the following Stands Tunes and place them in your flip folder:
ESPN
Skin I'm In
North Dade
YMCA
Shut up and Dance
Sweet Caroline
"The Big 3" (Go Eagles, Eat em up, Dynomite)
(We will teach this one ("Go Eagles" slow version with Z's))
RFMN
Hey, Let's Go (Rattler Strike Chant) https://www.youtube.com/watch?v=HL8BbH0LXV8
Star Spangled Banner
Alma Mater
Fight Song
Hey Song
Wild Cats
-Purchase your tickets for Pops-N-Pies as soon as possible!
Parents and Guests, your ticket is $12 per person. Band members, your ticket is only $6. Your ticket includes soda "POP" and Pizza "PIE". *Ticket sales will close at 7 pm on Tuesday, August 17th for an accurate count of pizza pie orders! https://www.stonemandouglasband.com/post/pops-n-pies-tickets-now-on-sale
The Eagle Regiment band camps 1 & 2 award recipients will be recognized at the event. Awards include some of our first time marching members, sections and more. Be sure to invite your family, friends and neighbors! This is a fundraiser for the band and We appreciate your support! Please be sure to come cheer on as we recognize these hard working students!
THIS WEEK'S SCHEDULE

:
-WEDNESDAY, 8/18/21: 1ST DAY OF SCHOOL!
No Instruments needed today & No Practice
-THURSDAY, 8/19/21: REHEARSAL & GAME
Bring with you to school - Instrument, Band Bag with Poncho, Drill Coordinates, ALL Music, Flip Folders, Lyres, Water, Snacks, Practice Uniform, Maroon Spirit T-Shirt & Black Jeans, (Color Guard bring New Spirit Uniform)
3:15 PM - Stands Music Practice in Auditorium (in Practice Uniform)
4:15 PM - Practice on Marching Practice Lot
5:30 PM - Dinner in Cafeteria
6:00 PM - Change into Spirit Uniform
6:20 PM - Inspection in Auditorium
6:30 PM - March to Stadium
6:50 PM - Perform National Anthem
7:00 PM - GAME
9:45 PM - Approx Dismissal
-FRIDAY, 8/20/21: REHEARSAL & POPS-N-PIES PERFORMANCE
Bring with you to school - Instrument, Band Bag with Poncho, Drill Coordinates, SHOW Music, Water, Snacks, Practice Uniform, New Show Shirt, Compression Shorts, Black Band Shoes or Dress Shoes, Long Black Dress Socks, (Color Guard bring PERFORMANCE Uniform)
3:15 PM - Practice at Stadium (in Practice Uniform)
5:30 PM - Change in to FULL UNIFORM
6:10 PM - Inspection in Auditorium
6:20 PM - March to Stadium
6:30 PM - Pops-N-Pies PERFORMANCE at Stadium
7:00 PM - Cafeteria
9:00 PM - Approx Dismissal
ORDER POPS-N-PIES TICEKTS
----------------------------------------------------
NEXT WEEK'S SCHEDULE

:
-TUESDAY, 8/24/21: REHEARSAL
3:15 PM - 6:30 PM (Pick up at 6:45 PM)
-THURSDAY, 8/26/21: REHEARSAL
3:15 PM - 6:30 PM (Pick up at 6:45 PM)
-FRIDAY, 8/27/21: REHEARSAL & GAME
Bring with you to school - Instrument, Band Bag with Poncho, ALL Music, Flip Folders, Lyres, Water, Snacks, Show Shirt, Compression Shorts, Black Band Shoes or Dress Shoes, Long Black Dress Socks, (Color Guard bring PERFORMANCE Uniform)
3:30 PM - Stands Music Practice in Auditorium (in school clothes)
5:00 PM - Dinner in Cafeteria
5:40 PM - Change into FULL Uniform
6:10 PM - Inspection in Auditorium
6:20 PM - March to Stadium
6:50 PM - Perform National Anthem
7:00 PM - GAME
8:10 PM - HALFTIME PERFORMANCE
10:15 PM - Approx Dismissal