The WEEKLY Blast (8.29.21)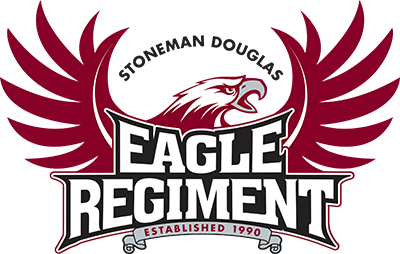 29 August 2021
Eagle Regiment Family,
Good morning and hope all of you are enjoying your weekend! This past week, we completed placements in all the Band Classes. Students will be advised soon. The Marching Band had successful performances at Open House and Friday's Football Game.
STUDENTS and PARENTS - Please be sure to READ ALL OF THE WEEKLY BLAST so everyone is advised of what's coming up.
ALL-State Auditions: Any student intending to audition for All State must join the ALL-STATE 2022 Band app page. They also should have signed up with Mr. Rivero. Students have until Monday, 8/31, to Sign Up.
ALL Students need to make sure to join they have joined their Class Period Band App Page.
Closer Music Rehearsal will take place this Thursday. Make sure to memorize and practice for Thursday's rehearsal.
ER Practice schedule for this week is Tuesday and Thursday. See detailed Schedule Below for times and info. (specifically for end times and Thursday's extended rehearsal.
ER ADJUSTED AND REVISED CALENDAR in Word and Excel documents have been uploaded to the BAND app. Please be sure to Read and note the additional dates and time changes.
THIS WEEK'S SCHEDULE

:
-TUESDAY, 8/31/21: ER REHEARSAL
3:15 PM - 7:00 PM (Pick Up at 7:15 PM)
-THURSDAY, 9/2/21: ER REHEARSAL (Professional Study Day - Longer Rehearsal)
*1:30 PM - 7:00 PM (Pick Up at 7:15 PM)
1:3o PM - Closer Music Rehearsal in Auditorium
3:30 PM - Outside Drill Rehearsal
----------------------------------------------------
NEXT WEEK'S SCHEDULE

:
-*WEDNESDAY, 9/8/21: ER REHEARSAL
3:15 PM - 7:00 PM (Pick Up at 7:15 PM)
-THURSDAY, 9/9/21: ER REHEARSAL
3:15 PM - 7:00 PM (Pick Up at 7:15 PM)
-FRIDAY, 9/10/21: GAME