The WEEKLY Blast (9.26.21)
Updated: Sep 28, 2021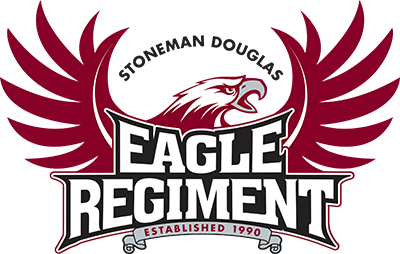 26 September 2021
Eagle Regiment Family,
The WEEKLY Blast contains information for ALL day school classes of Mr. Rivero, Mr. R, and Mr. Broadbent, The Eagle Regiment Marching Band, and The Eagle Regiment Volunteers. Please Read All.
The Marching Band had an INCREDIBLE day yesterday at our Camp Day Rehearsal! Thanks to all your efforts, we were able to learn all of Movement 3 and the beginning of Movement 4, and we definitely got better! Our Eagle Regiment Volunteers worked with our Field Crew and began learning how to assemble and move props. Our Band Parents were busy getting Uniforms and Shakos ready to go! We are getting closer to making our return to the Marching Band Competition arena and it's thanks to all of you!
LAST CHANCE for Tuxedo/Dress Fittings for Wind Orchestra, Symphonic Band, Concert Band, Jazz Band, and Percussion members: They will take place TOMORROW, MONDAY, 9/27, FROM 1:30 PM - 2:30 PM, IN THE BAND ROOM. Please see Mr. Rivero if you need a pass.
PARENTS/STUDENTS: ORDERING OF THE CONCERT UNIFORMS -
Tomorrow, Monday, 9/27, you need to go to www.mybandstuff.com
to order Tuxedos and Dresses from Ictus Limited. This is where parents will use the measurements form that that was filled out and given to each student to order and pay directly to Ictus Limited. This must be done from Monday to Wednesday in order to receive the Uniform prior to our Fall Preview Concert which is scheduled for Wed., Oct 27th. If you have any questions, please reach out to Mrs. Govan at mepavp@eagleregiment.com.
FALL PREVIEW CONCERT IS WED., 10/27:
Featuring the Jazz Band, Wind Orchestra, Symphonic Band, and the Eagle Regiment Marching Band, THE FALL PREVIEW CONCERT will be in the John Rusnak Auditorium at MSD and will begin at 7:00 PM!
Admission is $10.00 for Adults and $7.00 for Students.
The BOA Trip page is now online! All information regarding this event is located there.


We have just 3 MORE REHEARSALS til our 1st Competition, which is October 2nd, at Flanagan High School!!!
THIS WEEK'S SCHEDULE

:
-MONDAY, 9/27/21: Battery Percussion Performance at MSD
7:30 AM Meet Time in the Band Room, Maroon Spirit Shirt, Black Shorts, & Sneakers.
-TUESDAY, 9/28/21:
ER REHEARSAL: 3:15 PM - 7:00 PM (Pick Up at 7:15 PM)
(Color Guard: 5:00 PM - 8:00 PM)
-THURSDAY, 9/30/21:
ER REHEARSAL: 3:15 PM - 7:00 PM (Pick Up at 7:15 PM)
-FRIDAY, 10/1/21:
ER REHEARSAL: 3:15 PM - 8:00 PM (Pick Up at 8:15 PM
(Bring Snacks)
-SATURDAY, 10/2/21:
COMPETITION DAY!!!: 10:00 AM - Meet Time at MSD in Practice Uniform
(Bring Lunch and Snacks, Band Bag, and ALL of your Full Uniform Performance Accessories)
*See link FOR TICKET INFO AND FULL REHEARSAL/CONTEST SCHEDULE at https://www.stonemandouglasband.com/post/flanagan-competition-itinerary-is-now-online
----------------------------------------------------
NEXT WEEK'S SCHEDULE

:
-TUESDAY, 10/5/21:
ER REHEARSAL: 3:15 PM - 7:00 PM (Pick Up at 7:15 PM)
(Color Guard: 5:00 PM - 8:00 PM)
-THURSDAY, 10/7/21: (Early Release Day)
ER REHEARSAL: 1:30 PM - 7:00 PM (Pick Up at 7:15 PM)
-FRIDAY, 10/8/21:
BATTERY PERFORMANCE AT PARKLAND GOLF CLUB & CORAL SPRINGS MS
-SATURDAY, 10/9/21: (ALL DAY AND NIGHT EVENT)
CONTEST #2, Lancer Invitational at John I. Leonard HS