The WEEKLY Blast (11.15.20)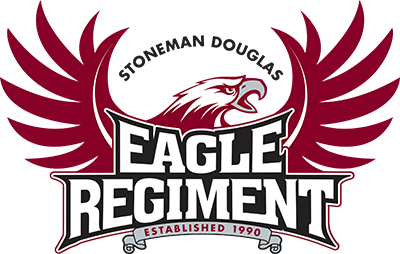 15 November 2020
Eagle Regiment Family,
There will be a VERY IMPORTANT Parent/Student meeting this Tuesday, November 17, at 6:30 PM. Each student MUST have at least (1) Parent present. We will be discussing what we know, and plan, in regard to Band, Color Guard, and Percussion for December to the end of the school year. We will also be discussing London, Fundraising, and Communications. The ZOOM invite will be posted on the BAND App.
A special Congratulations to Ava Wellnitz and Kyle Bishop for being selected to participate in the 2021 All State Band and Orchestra! This is a great honor for them and we are extremely proud of them.
NEW TICKET PROCESS FOR FRIDAY'S FOOTBALL GAME - I posted the new process on the BAND App this past Friday which details how Parents are to secure no more than (2) tickets for the Game on 11/20. This was also emailed out through CHARMS. This process is being handled ONLY through MEPA and once the suspense date (Wed., 11/18) has passed, you WILL NOT be able to get tickets. Please see Friday's BAND App post for details, and the tickets link is posted below:
https://forms.office.com/Pages/ResponsePage.aspx?id=y7Ws7nBTWEOpaqN4PJXUIv3w_10Wev1FuwUNIVTw7r5UNlVUNElaVDZCSEZXWUdTQU5CTURNNFlITS4u
________________________________________________________________________________
THIS WEEK'S SCHEDULE:
Monday, 11/16/20, Silver Day
Tuesday, 11/17/20, Burgundy Day
3:00 PM, Tri-M Monthly Meeting
6:30 PM, MEPA General Parent Meeting via ZOOM (See BAND App for Invite)
5:00 PM-7:40 PM WORLD GUARD AUDITIONS @ MSD
Wednesday, 11/18/20, Silver Day
3:30 PM, SENIOR UNIFORM TURN-IN
3:30 PM - 3:45 PM, In Person MB ARRIVAL at MSD in Practice Uniform, Mask, Bell Cover, Music Flip Folder, Music Lyre, and Equipment (Complete COVID Screening Questionnaire prior to arrival)
4:00 PM - 6:00 PM, In Person MB Rehearsal at MSD (At Home MB Personnel will ZOOM)
(The Focus will be on "Shut up and Dance" for the London Video, as well as reviewing all Stands Music)
4:00 PM - 6:00 PM, Football Ticket Money is due to MEPA at In Person MB Rehearsal
Thursday, 11/19/20, Burgundy Day
5:00 PM -7:40 PM WORLD GUARD
Friday, 11/20/20, Silver Day
5:00 PM - ARRIVAL IN Pep Uniform (Complete COVID Screening Quest. prior to arrival)
5:15 PM - Warm-Up
5:45 PM - INSPECTION/MARCH To Stadium
6:20 PM - National Anthem
6:30 PM - GAME
9:15 PM - Approx Dismissal
________________________________________________________________________________
ANNOUNCEMENTS/REMINDERS:
-All Parents/Students: There will be a MEPA meeting via ZOOM, Tuesday, November 17, at 6:30 PM.
-SENIORS: Uniform Turn-In is Wed., 11/18, at 3:30 PM
-In Person MB/At Home MB members: Rehearsal is scheduled for Wed., 11/18, from 4pm-6pm. (In Person MB be sure to arrive between 3:30 - 3:45 and complete the COVID Screening Questionnaire on Wednesday, prior to arrival.