The WEEKLY Blast (12.14.20)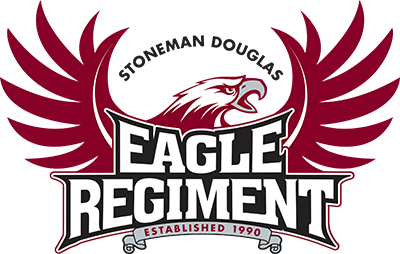 14 December 2020
Eagle Regiment Family,
Hope you had a great weekend!
We would like to thank all of our Eagle Regiment families for your participation in the Cheesecake and Poinsietta Fundraisers. A special thanks to Lauren Susman and Charlene Brighton for your efforts in the coordination of events.
STUDENTS should read Mr R's Band App Post regarding Exams and Missing Assignments.
Best wishes on your exams!
________________________________________________________________________________
THIS WEEK'S SCHEDULE:
Monday, 12/14/20, Burgundy Day
TUESDAY, DECEMBER 15
Period 7 Exam 7:40-9:35
Break 9:35-9:45
Period 8 Exam 9:45-11:40
*Make-up Exams 1:00-2:30
WEDNESDAY, DECEMBER 16
Period 5 Exam 7:40-9:35
Break 9:35-9:45
Period 6 Exam 9:45-11:40
*Make-up Exams 1:00-2:30
THURSDAY, DECEMBER 17
Period 3 Exam 7:40-9:35
Break 9:35-9:45
Period 4 Exam 9:45-11:40
*Make-up Exams 1:00-2:30
FRIDAY, DECEMBER 18
Period 1 Exam 7:40-9:35
Break 9:35-9:45
Period 2 Exam 9:45-11:40
*Make-up Exams 1:00-2:30
________________________________________________________________________________