The WEEKLY Blast (2.14.21)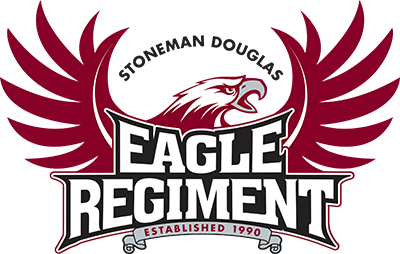 14 February 2021
Eagle Regiment Family,
I understand this is a very difficult day for our community and want to remind our students and families that we stand with you. Please take some time to think about the Schachter Family, the Montalto Family, the remaining Fifteen Families, and our School Staff and Community that were forever impacted by the tragedy three years ago. There is a link on our MSD website for the Day of Service and Love, where many resources can be found. Please do not hesitate to reach out if I can be of assistance.
***Please take note as I have listed the next two weeks of schedules since there will be some changes to the weekly routine. Remember, the entire Eagle Regiment of next year will begin their Spring Training on Tuesday, March 2nd, at 4:30 PM.
Please see below for the next TWO Week's of Schedules:
________________________________________________________________________________
THIS WEEK'S SCHEDULE:
Monday, 2/15/21, NO SCHOOL, President's Day
Tuesday, 2/16/21, Silver Day
3:00 PM - 4:30 PM, MSD Winter Winds Rehearsal, MSD North East Parking Lot
4:30 PM-6:15 PM, 2021-22 Freshmen/Sophomore Spring Training, MSD North East -Parking Lot
Wednesday, 2/17/21, Burgundy Day
Thursday, 2/18/21, Silver Day, EARLY RELEASE DAY
5:00 PM - 7:00 PM, MSD Winter Percussion Rehearsal, Band Room
Friday, 2/19/21, Burgundy Day
________________________________________________________________________________
NEXT WEEK'S SCHEDULE:
Monday, 2/22/21, Silver Day
Tuesday, 2/23/21, Burgundy Day
3:00 PM - 4:30 PM, MSD Winter Winds Rehearsal, MSD North East Parking Lot
4:30 PM-6:15 PM, 2021-22 Freshmen/Sophomore Spring Training, MSD North East -Parking Lot
Wednesday, 2/24/21, Silver Day
***Thursday, 2/25/21, Burgundy Day
*3:00 PM - 4:30 PM, MSD Winter Winds Rehearsal, MSD North East Parking Lot
*4:30 PM-6:15 PM, 2021-22 Freshmen/Sophomore Spring Training, MSD North East -Parking Lot
**6:15 PM - 7:45 PM, MSD Winter Percussion Rehearsal, Band Room
Friday, 2/26/21, Silver Day