The WEEKLY Blast (3.28.21)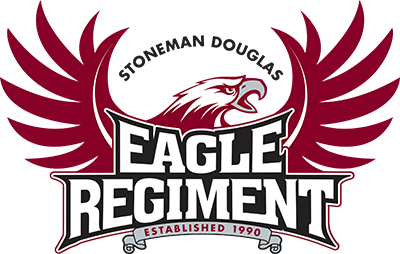 28 March 2021
Eagle Regiment Family,
Good evening and hope everyone has had a wonderful spring break.
As previously stated, if you want a spot in next year's marching band, you must be present beginning this Tuesday, 3/30, and for all rehearsals moving forward. Please remember to bring your mask, instrument/equipment, music, water, and wear the appropriate practice attire.
All County Band Participants: The Virtual experience begins tomorrow, 3/29. Please check the ALL COUNTY BAND APP thread for the Link and Schedule.
Please join us for another fundraiser at Chipotle, 4600 N.University Drive, this Tuesday, 3/30. The event will run til 9:00 PM. Please tell your server that you are supporting the Eagle Regiment and 33% of your purchase will go to the Regiment.
Please see below for this Week's Schedule:
________________________________________________________________________________
THIS WEEK'S SCHEDULE:
Monday, 3/29/21, Burgundy Day
Tuesday, 3/30/21, Silver Day
4:30 PM-6:15 PM, 2021-22 ER Spring Training, MSD North East -Parking Lot
6:15 PM - 8:00 PM, MSD Winter Percussion Rehearsal, Band Room
Thursday, 4/1/21, Silver Day
4:30 PM-6:15 PM, 2021-22 ER Spring Training, MSD North East -Parking Lot
6:15 PM - 8:00 PM, MSD Winter Percussion Rehearsal, Band Room
Friday, 4/2/21, NO SCHOOL