The WEEKLY Blast (4.11.21)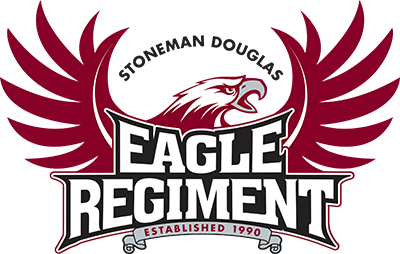 11 April 2021
Eagle Regiment Family,
What an INCREDIBLE feeling it was to see our students once again performing! Congratulations to the MSD Winter Percussion on their first performance this past Saturday, at John I. Leonard HS! The students were amazing and thank you to all the parents that came out to help and support this ensemble, as well as joining us at our traditional after party at Wings Plus!
Next Year's Marching Band:
BIG ANNOUNCEMENT - In addition to our fall contests and a possible performance in the Disney Parade, WE WILL be returning to the FMBC State Championships!!! Let the EXCITEMENT begin!
Seniors and Students NOT Marching next year:
If you STILL have a school owned Marching Band Instrument, please make arrangements to clean it and turn it in to me TUESDAY, 4/13, between 3:30 pm - 4:15 pm.
Graduating Seniors:
Eagle Regiment Scholarship applications for the John Rusnak Memorial Scholarship and the Steve Golodner Scholarship are now available at https://www.stonemandouglasband.com/scholarships and are due by 4/30.
Please see below for this Week's Schedule:
________________________________________________________________________________
THIS WEEK'S SCHEDULE:
Tuesday, 4/13/21 (Burgundy Day)
4:30 PM-6:15 PM: 2021-22 ER Spring Training, MSD North East -Parking Lot
6:15 PM - 8:15 PM: MSD Winter Percussion Rehearsal, Band Room
Wednesday, 4/14/21 (Silver Day)
5:00 PM: 2021-22 Leadership Staff Candidates Meeting via ZOOM (Check L-Staff Band app thread for ZOOM invite)
Thursday, 4/15/21 (Burgundy Day)
4:30 PM-6:15 PM: 2021-22 ER Spring Training, MSD North East -Parking Lot
6:15 PM - 8:15 PM: MSD Winter Percussion Rehearsal, Band Room